STAIR TREADS
We will be happy to produce high-quality stairtreads for straight and spiral staircases for you, if necessary also with a safe anti-slip treatment. Our stair steps, resistant to high loads and weather conditions, will find rich use in industry, trade and also in private buildings and projects.
Forge-welded stair treads (SP)
Stairs should generally provide a high level of safety. This is especially true for external or escape stairs. Stairs must also withstand high loads and weather conditions. Welded steel stair treads manufactured according to DIN 24531 are ideal for this application. Due to their strength and easy installation, they are universally used in most industrial and commercial applications. The dimensions and size of the steps are available in various designs. There is a safety tread on the front of the stair step. The side plates with prepared holes allow easy attachment to the stair construction.
Construction of welded stair treads - type SP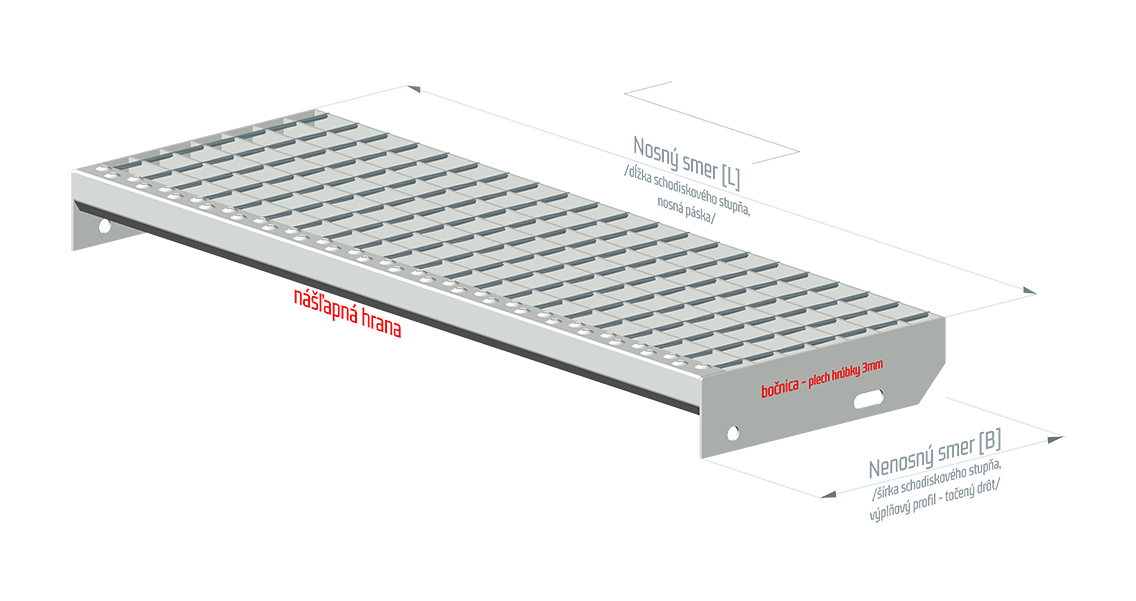 Made from four main elements:

tread edge - stepping edge – shaped wire 4.8 mm in diameter,
non-bearing steel wire – tvarovaný drôt priemeru 4,8 mm,
bearing bar – flat steel with dimensions as with classic SP gratings
side panel – sheet metal 3 mm thick with holes for anchor bolts

n – spacing of anchoring holes
h – height of bearing bar strip
l – length of the step
B – width of the step
E – side panel height (standard 70 mm)
F – distance of holes from the upper edge of the stair step (standard 55 mm)

The mesh dimensions of the "SP" type stair treads are manufactured in the same standard modules and dimensions as the grate meshes according to DIN 24537 "SP" (see Welded steel floor gratings).
TECHNICAL DATA AND TABLES
ACCESSORIES